229 Miles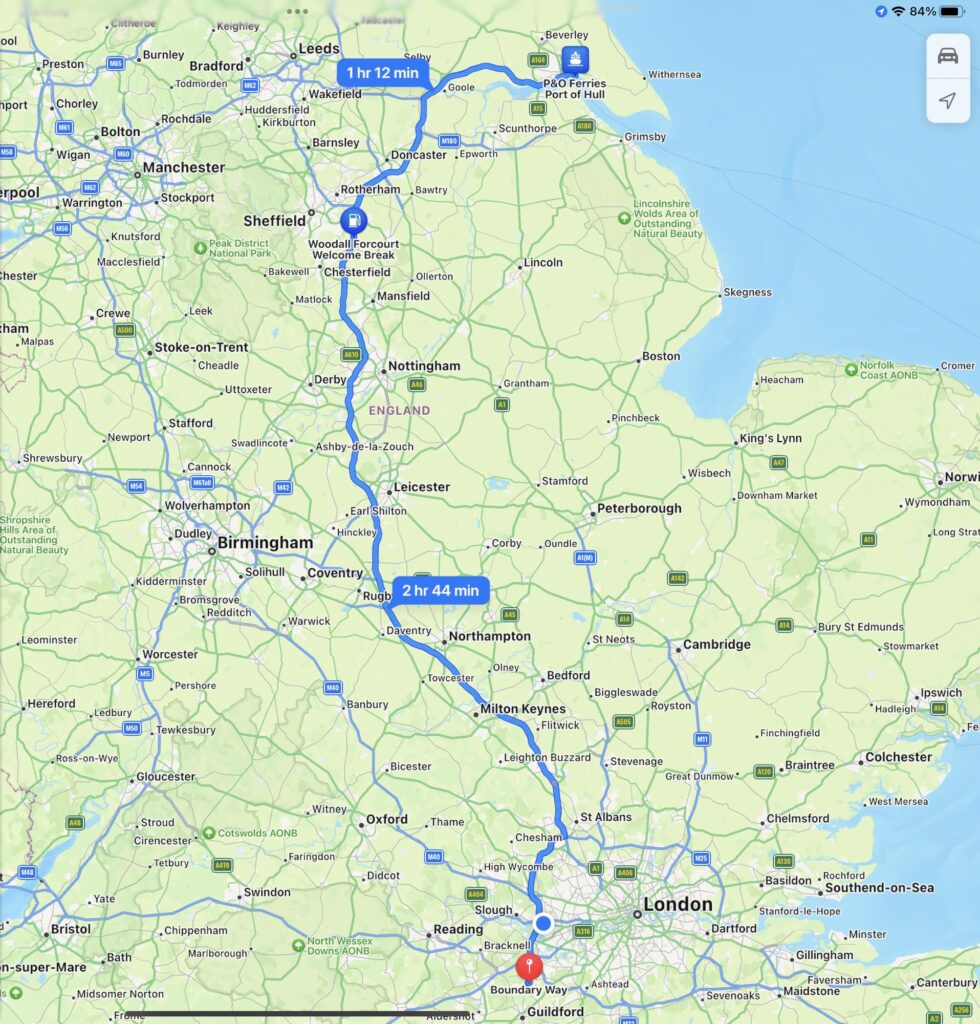 After the overnight ferry from Rotterdam to Hull, it was a pain getting off the boat. They unloaded the lower decks before ours and there were long lines getting through immigration. Hull was as I remember it from my time there in the 1980s, cold, wet, and windy.
Mac took the lead as we left he port, Mark was behind him, and I brought up the rear. Mac had lost us by the time we went through the second or third roundabout. Mark and I just trundled along across the River Hull and the road out of the city.
The weather was awful. It was raining lightly and the cars and trucks were kicking up a bunch of spray. When we got alongside the Humber out by the Humber Bridge we really got a feel for things. The wind came whipping in off the water and shifted us across lanes, especially when we were passing trucks.
When we hit the M62, Mac had slowed down to let us catch up and we picked up again. The bridge over the River Ouse was fun with warnings ahead of it about the winds to expect. The good thing was there was roadwork on the bridge so they'd slowed everyone down so it the peak it did not feel that bad.
Ten miles down the road, I split off from them to head to the SOUTH as it is signposted on the M18 to Doncaster. I was probably the lucky one as I left the M62 before it went up and over the Pennines. As I headed south it started to clear up.
About an hour in, I stopped at a services for a coffee and bacon sandwich. I had planned on having one on the boat but had slept in and when I got to the cafe, they sold the last one two people in front of me. You can't beat British bacon – as some wise woman once said – it beats that streaky American rubbish.
The rest of the trip to Woking to drop of the bike was uneventful. My petrol light came on with 20 miles to go and a 50 mile range. I was able to fill up at the station a mile from the RoadTrip location.
Here's a last look at big, I'm not sure if it is, Bertha's or Bert's dashboard. Three things to note:
1. Heated grips are on
2. Heated seat is on
3. 3381.6 miles total
That is 218 short of my allowed mileage. To paraphrase something I said to Mark, a CPU second not used is a CPU second wasted, I'm in two minds as to whether a mile not used is a mile wasted or not.