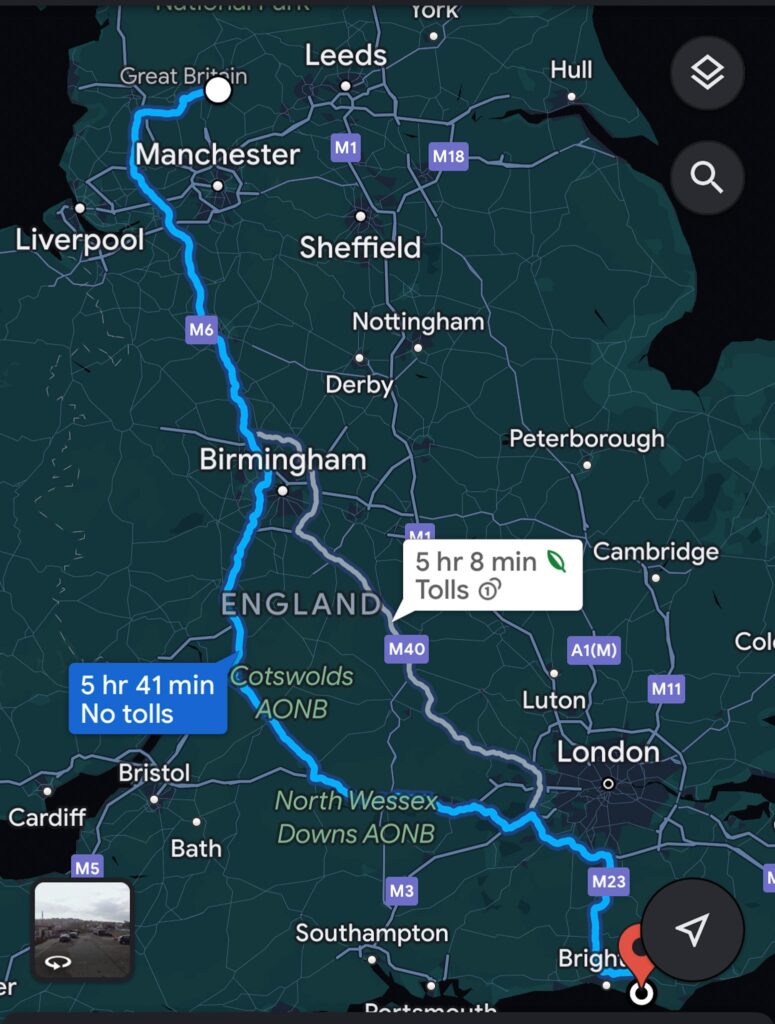 308 miles/492 km
Day 2 of riding
Today, Martyn was supposed to meet me at 8am at my mum's house. The plan being to ride to Sandbach services and meet Mark and Macbean. At 6:30 last night he called me to say that his bike needed an MOT.
He'd come up with a brilliant scheme. As you are allowed to ride directly to a testing station, he'd come up with a brilliant plan. He'd booked his bike in for the test at the Newhaven testing station 228 miles away, as the crow flies. "Yes officer, this is the most direct route from Hebden Bridge to Newhaven. He'd only called me so that no one else would take the piss
So, at 8:05 this morning, I left a teary eyed Mum to ride solo to Sandbach. As soon as I left, the satnav/gps added an hour and fifteen minutes to the planned trip time of 90 minutes suggesting my arrival would be 10:50. A missed turn getting out of Burnley added another couple of minutes.
I said I wasn't going to say this again, but guess what it was raining. Twenty minutes in to the trip, the problem became obvious. The traffic came to a standstill outside Blackburn. Thank heavens for lane filtering. Off I went down the white line using my mirrors as feelers. Most people were nice and moved over. At a point, the two lanes became three and I moved over to that side. I do worry when I pass a cop in the middle lane. No lights. No siren. No problem. A mile further down the road a car was stopped holding all the traffic in that lane. I scooted around and took off down the lane wondering what was wrong. Apparently nothing other than the guy being a jackass. I had clear road for two miles until the lane merged back end. Everyone in the other two lanes was going nowhere. Finally, another two miles down the road after more lane splitting, the traffic cleared. A three car wreck was all moved to the hard shoulder.
Time update 9:45 arrival. More rain, more filtering, arrival 9:46 where Mark and Mac are waiting. I'm so disappointed that they already no Martyn's plight. They are not surprised to see me alone. Is planned the fake look over my shoulder to question where he'd gone. I'd promised I'd give the the f'u all from him when they laughed as I told them the tale.
Needless to say, his plans had changed. He'd already completed his MOT and was "20 miles" down the road. Did I need the toilet? No. Did I need petrol? Yes but I could do 20 miles. Forty miles later with my reserve light on, Mark led us into a service station for gas. It seemed Mac had missed the service station where Martyn was.
Filled up and back in the road we did another 20 miles to meet up with Martyn. Thank goodness because I was starving. I'd been promised a bacon butty at our planned stop and it had been on my mind since I left Burnley.
The next 100 miles was easy. The weather had cleared up and I took off a couple of layers at our next stop. More motorway, M5, M40/42, M25, M23. Easy going but I still don't have the hang of these variable and average speed limits. The variable is very go / slow. The average seems to work much better.
As we ahead down the M23 Mac, running lead pulls off the motorway but my nav is saying carry on. At the roundabout I ask him of this is the right way and according to his nav it is but it is arriving 30 minutes later than mine. We pull back on the motorway and two minutes later he throws his hands up because the nav is playing up. I take the lead and head off to Newhaven.
As we enter town, we stop for gas and Mac checks his system. It is set for the "shortest" route. I kid that it's because he's a pensioner and needs to save petrol money.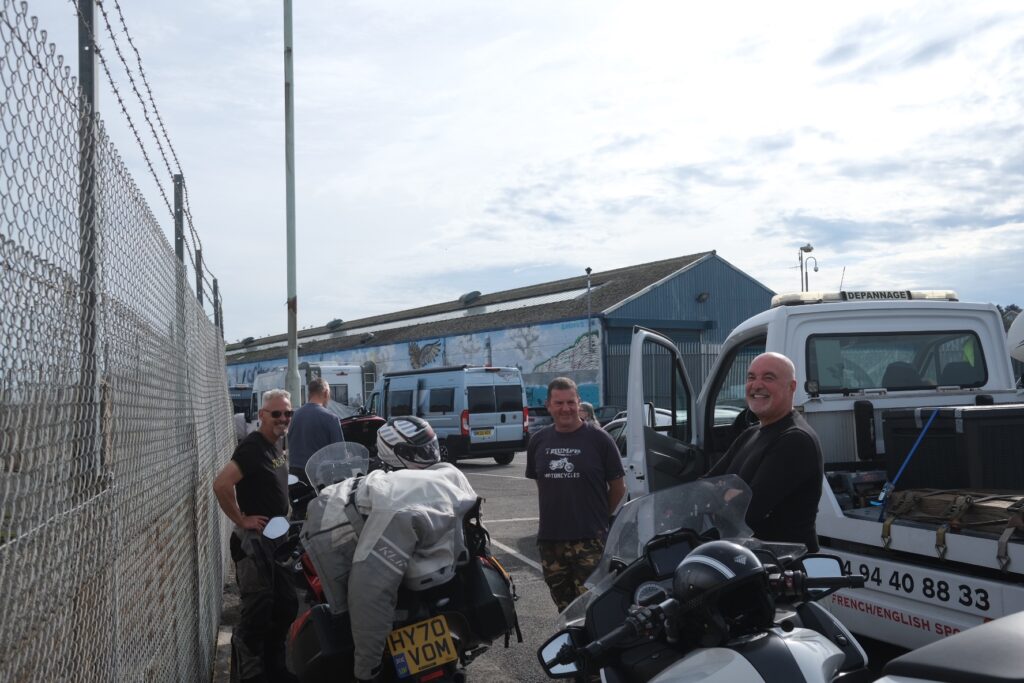 A few miles later, with Mac in the lead again, we made it to the ferry. Check-in and pre-board could not have been easier. It could have been quicker because the lady in front of us could not find her passport. Boarding was easy. Bikes on first, ride to the back, front wheel into a chock, padding, strap down, done.