644 km/403 miles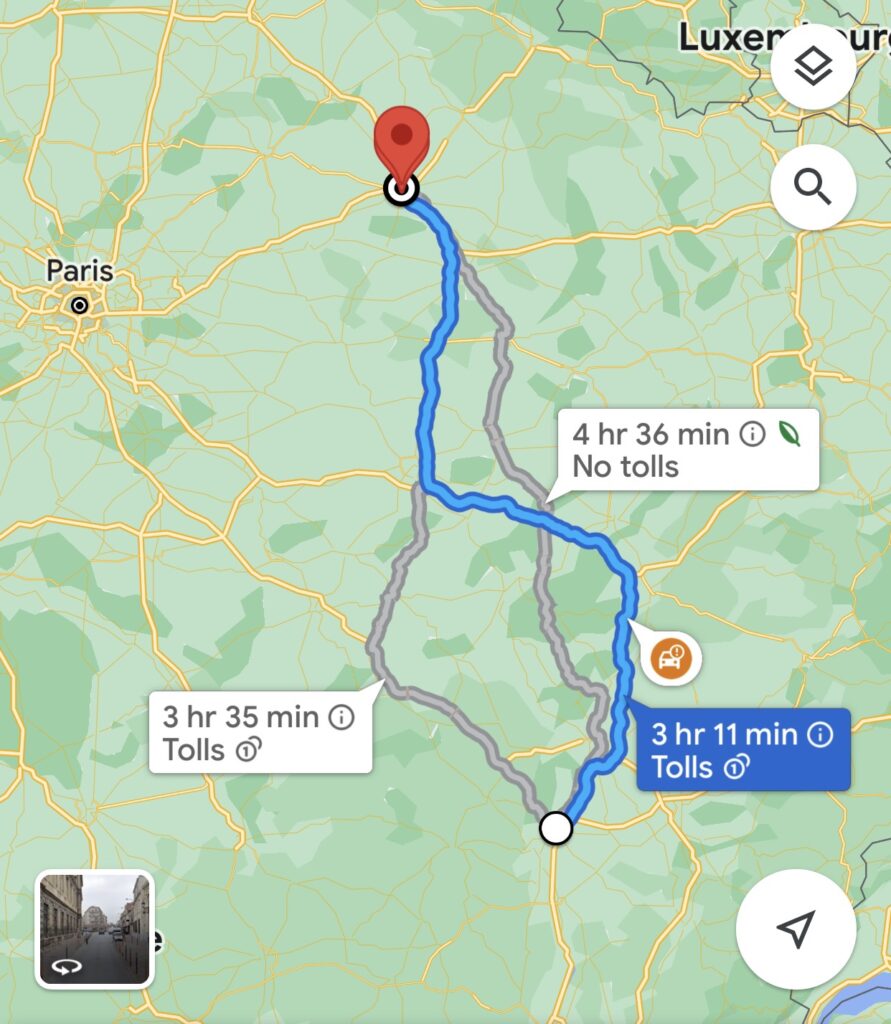 From the capital of Burgundy to the capital of Champagne. With just one day of riding left and a lot of miles to cover to Dieppe, we chose a two step day. Part 1 of the ride was to put some miles in and cover ground. We may Soisson near Reims our target town and chose to use the toll roads to put some distance in. It was cold today. I started the day with an extra layer but it wasn't enough. For some reason at our first stop, I didn't think to put on another layer. Finally, at the second stop I did and life was much more bearable. At both stops we ran in to a couple of English guys who were heading back from the Bol like us riding sports bikes. I could not imagine doing that kind of distance leaning on my wrists and on a thin seat.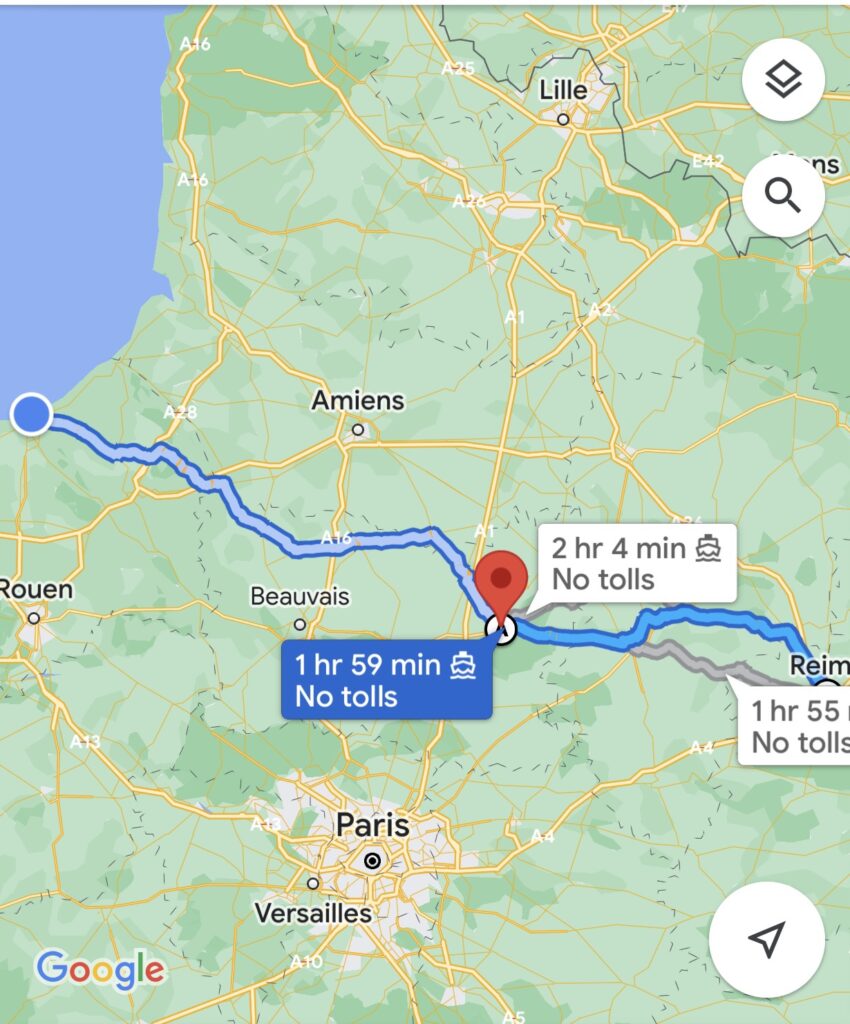 Soon after we hit Reims, we stopped off at a supermarket to grab a sandwich for lunch. Nothing pretty but a welcome break from a bunch of riding with just gas stops.
After lunch we set our satnavs to no motorways and no toll roads. Martyn, who took the lead seemed to have an extra setting which said ride through the center of every town rather than go around the bypass. What a fun time. We hit beautiful countryside, wide sweeping bends, and after a while not much traffic. For that while, Martyn buggered off at the front passing everything and disappearing. This in of itself was fine but my and Mark's satnavs kept saying turn but Martyn was not waiting at the corner.
I had never thought of France being a place where potatoes grew but we went through miles and miles of potato farms. I never thought about potatoes having a smell but passing the fields where the harvest was going the smell was distinctive. Seeing the farms, led to all sorts of thoughts. How do they did the potatoes up on a mass scale? How many potatoes get damaged? Is this where Chopin vodka comes from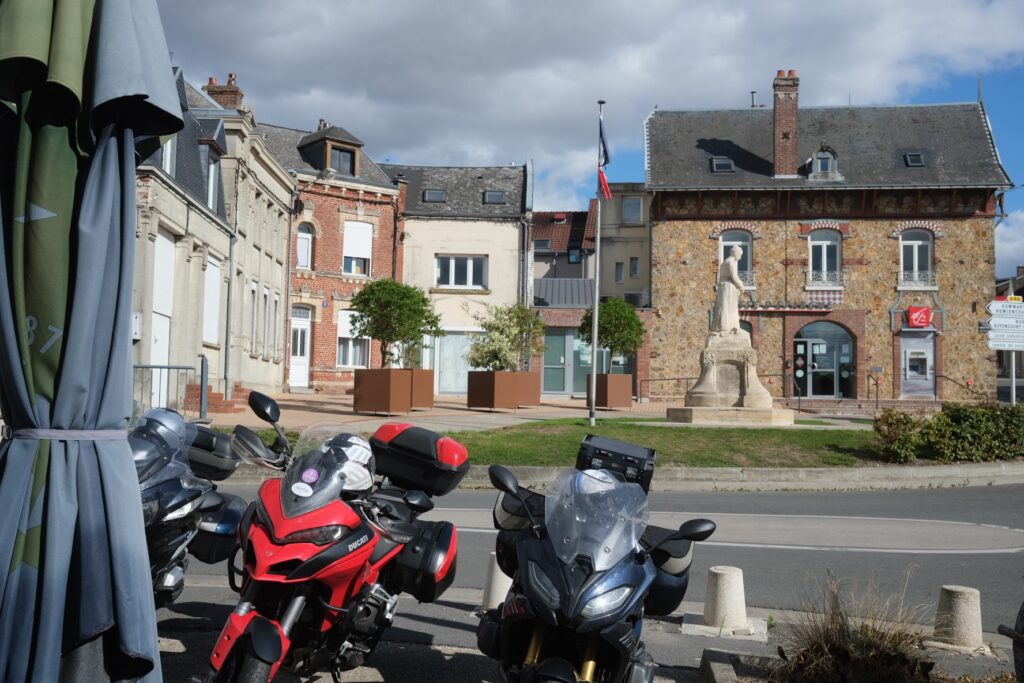 We finally pulled into a little town and Martyn was parked outside a little café. Coffees all around. Served at the outdoor tables. When I walked into the café all heads turned. I think we were so far out of the way, bikers arriving is an unusual event. Seeing a black one was even more eye opening.
After coffee, we are on a mission. We have a two hour window to check in at the hotel. Following Martyn's satnav has me questioning whether we'll make it if we have the normal town center detours. We are there in plenty of time. However, it is clear that we are the last check in for the night and the madam waiting for us is ready to head home.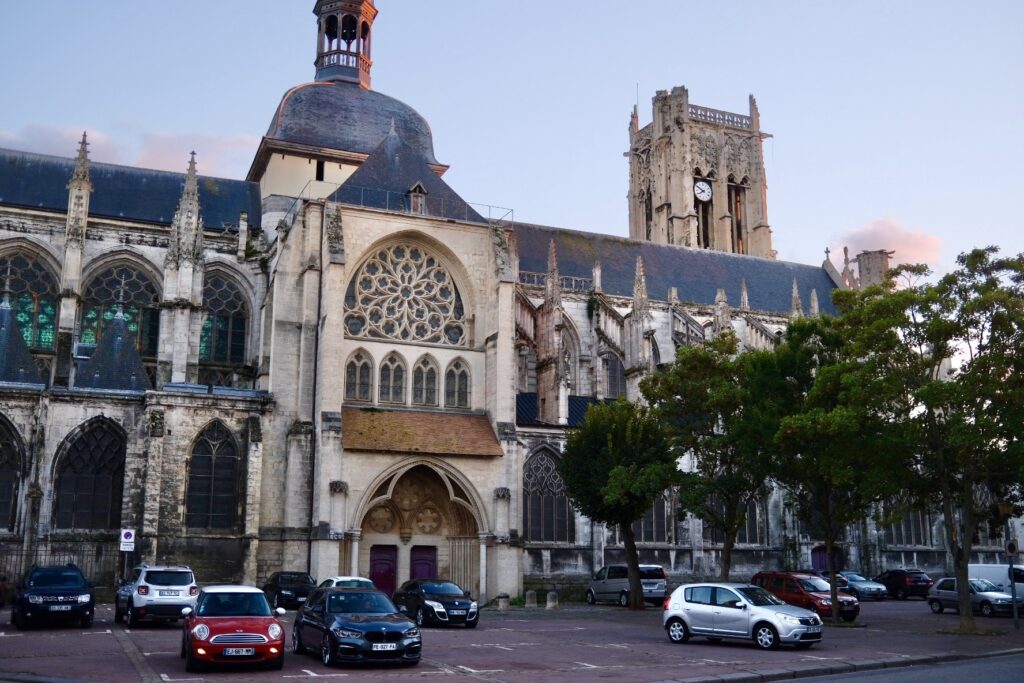 The hotel had no parking so we set up on the street outside. Parking was free from 7pm to 9am so we had to pay for an hour. Out came all the padlocks and the steering locks were set with wheels jammed against the curve. Martyn suggested Mark and I both remind him to remove his lock in the morning as he did not want to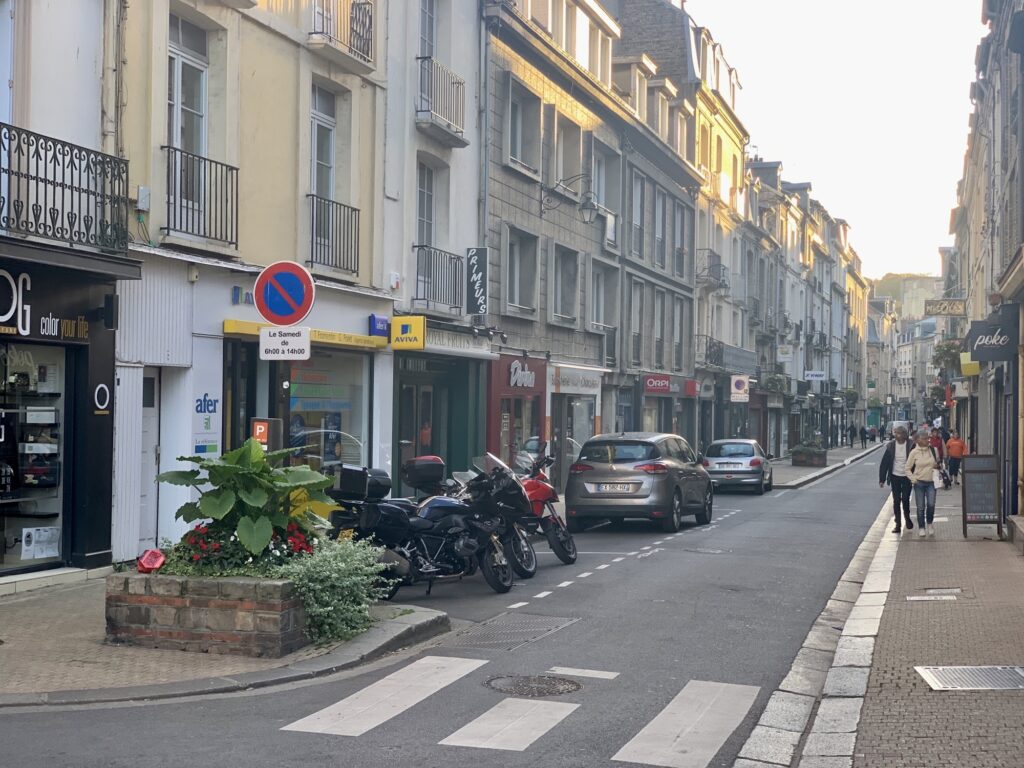 After parking the bikes, we head for a beer and find a little café across the street from the Cathedral. The place closed early and we were soon the last customers.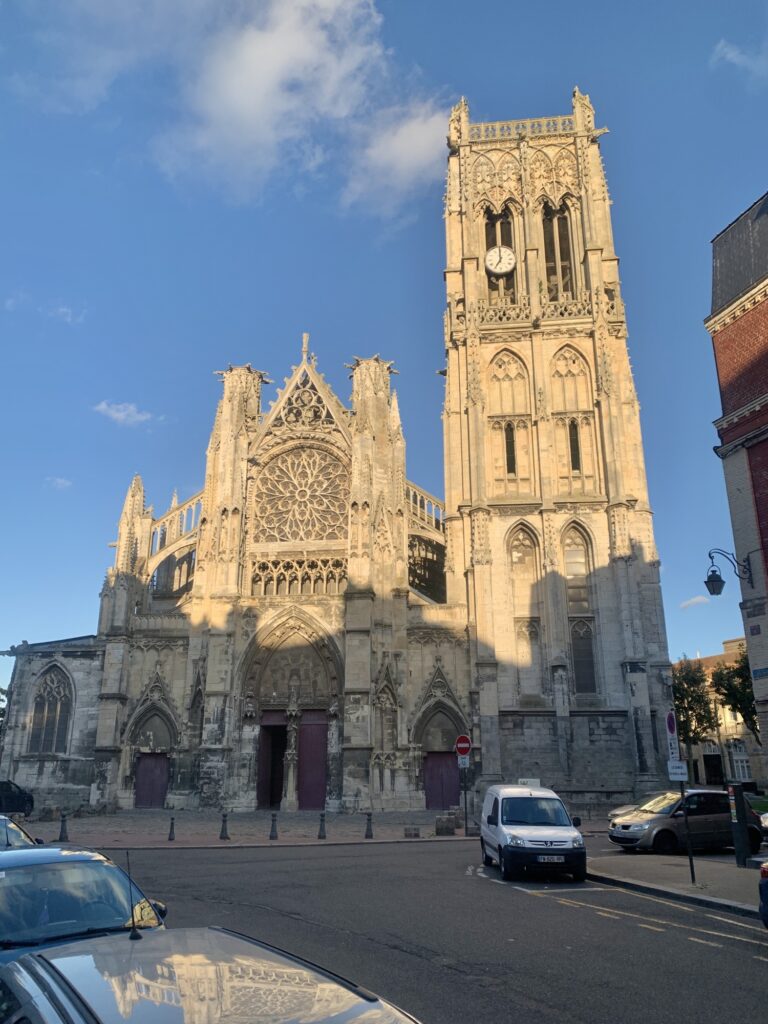 The view of the cathedral was far more impressive from the end with the sun setting on it. However, a visitor amused us as she backed out of a parking space into a bold. No damage to the plastic bumper on her tiny little car.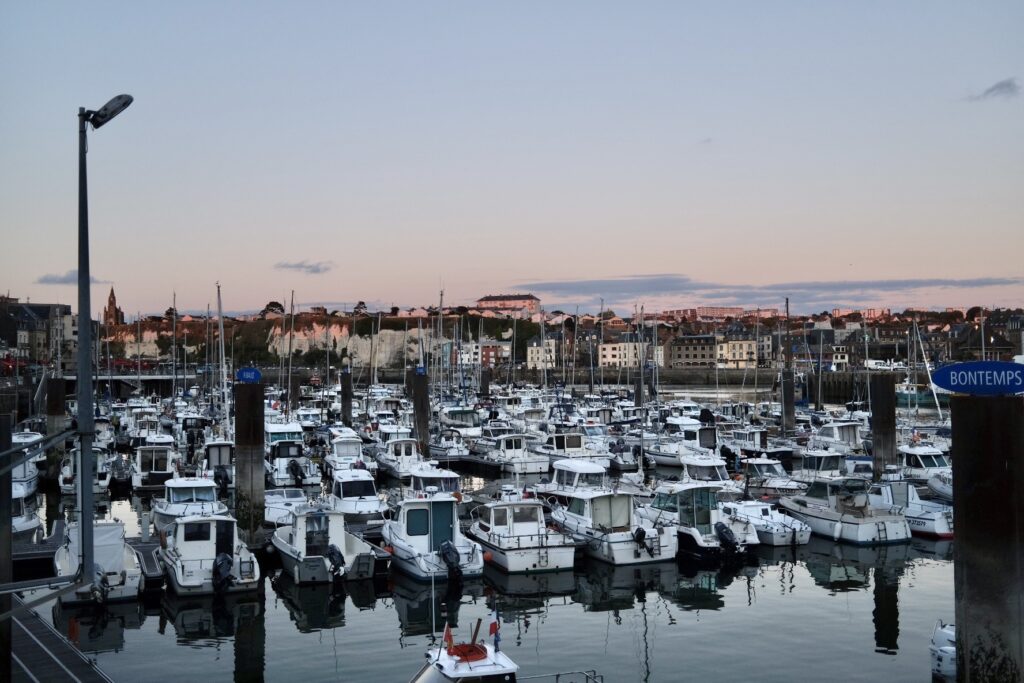 All the restaurants in Dieppe seem to surround the marina and we strolled over it check them out. In the same manner as St Jean du Gard and Beaune the restaurants all seemed to have the same menu. We picked the second because it had a good vibe.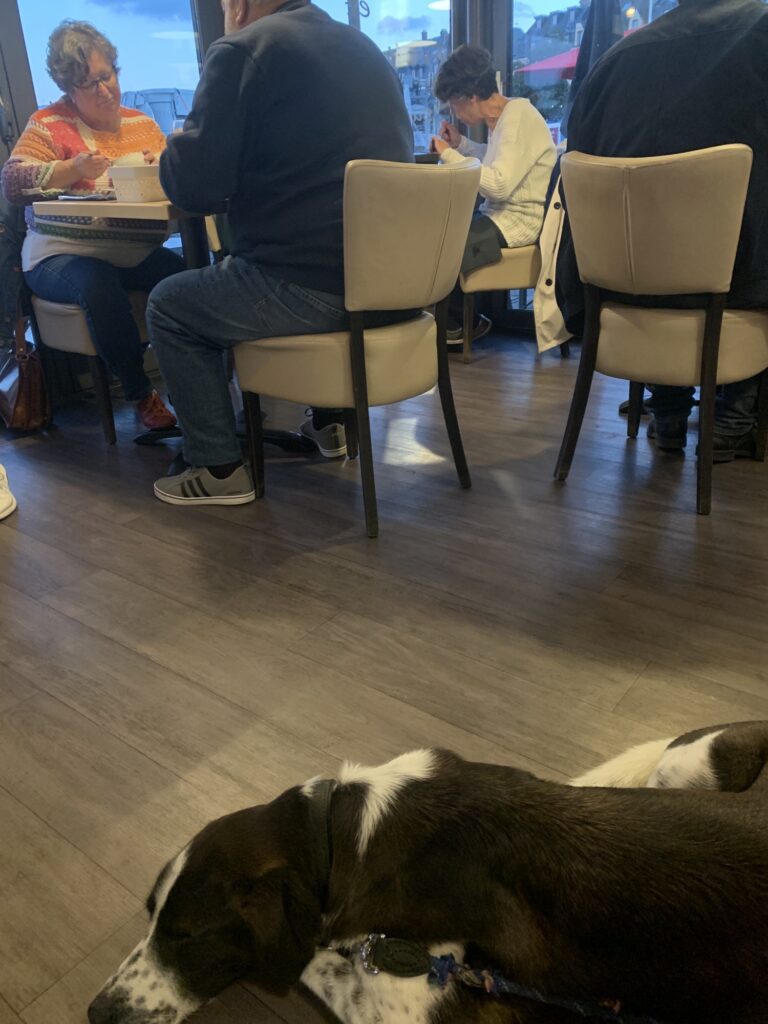 What better vibe than allowing dogs into the restaurant? This was not a service dog. Just a guy and his dog waiting for the 11pm ferry. That was the ferry we had planned to be on but we changed to the following day so we did not have to get off at 4am and ride after little sleep.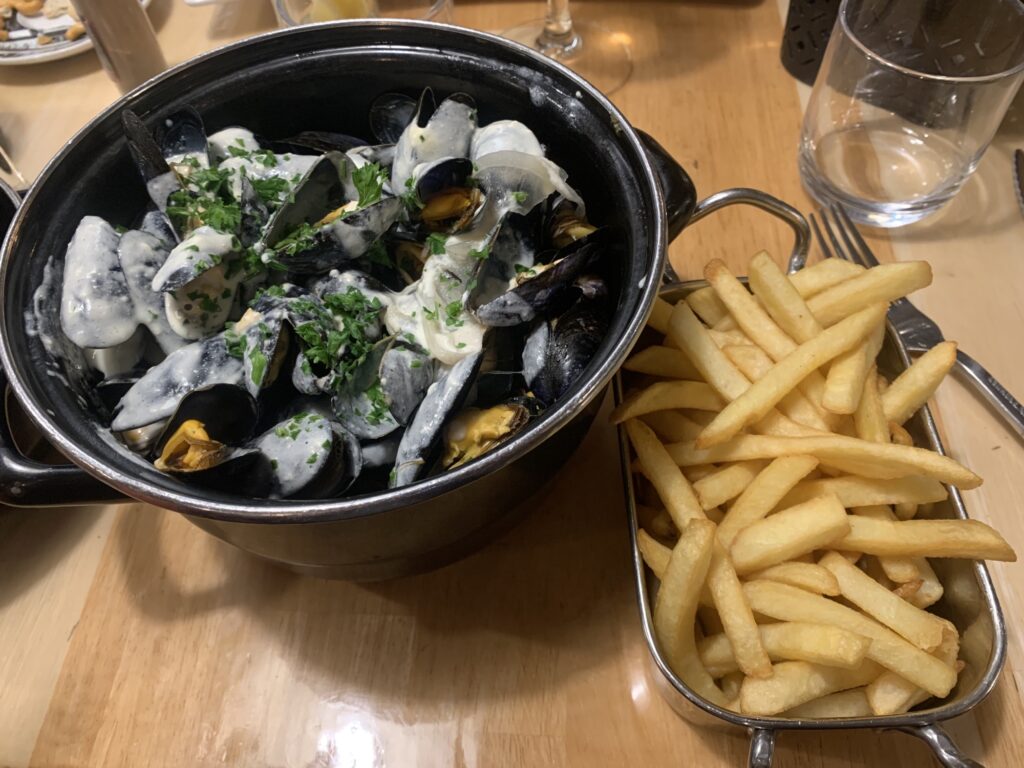 Dinner choices were good. Mark and Martyn started with a seafood platter which was massive. I had the fish soup. They had fish dishes for mains and I had the mussels which were great and sopping the sauce with bread was once again fantastic. We had a bottle of Sancerre to go with the seafood which was delightful. We finished off dinner with a calvados as a nightcap.
After a long hard day of riding, we were all tired. I pinged Lisa to see if she was around to chat. She suggested I call an hour later if I was still up. I didn't 😄.